Partner Spotlights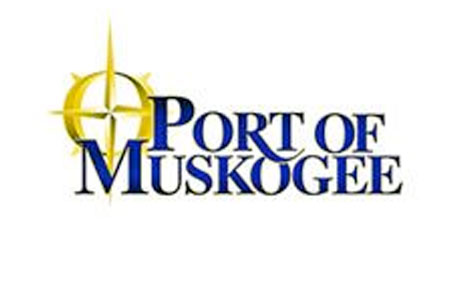 Muskogee City-County Port Authority
Muskogee is Oklahoma's River City with a strategic location and infinite routes to success. The Muskogee City-County Port Authority is a strategic partner in the work being done by Tulsa's Future, the regional economic development plan led by the Tulsa Regional Chamber.
This Global Port City Offers Strategic Location Assets
Muskogee is a global port city and home to one of two public river ports in the State of Oklahoma that's positioned in the heart of "Green Country". Muskogee's central location and multi-modal transportation infrastructure (air, truck, rail & barge), provides flexibility and cost-competitive alternatives for companies with supply chain sensitivities. This makes Muskogee especially attractive for companies who have suffered supply chain disruptions during 2020.
The Port of Muskogee is located along the McClellan-Kerr Arkansas River Navigation System, the nation's most inland, all-weather waterway with barge access to the Gulf of Mexico. Muskogee is home to three rivers: Arkansas, Grand and Verdigris, which have served as a natural magnet for trade.
Muskogee is served by two Class 1 rail carriers: BNSF and Union Pacific.
Four major highways run through Muskogee including U.S. Highway 69, which connects Muskogee to Interstate 44 to the north and Interstate 40 to the south.
A Manufacturing Workforce, An Educated Workforce
Muskogee is Oklahoma's 4th largest manufacturing community with more than 47,000 production jobs within a 45-minute commute.
Muskogee offers access to four institutions of higher education: the public four-year Northeastern State University, the public two-year Connors State College, the public Indian Capital Technology Center and the private four-year Bacone College, the oldest college of continuous education in Oklahoma.
There are 18 additional colleges and universities and another 12 technology centers within a 45-minute commute time, providing a strong pipeline of educated and skilled workers.
Growing Businesses Are Choosing Muskogee
Businesses such as Georgia-Pacific and Dal-Tile are benefiting from Muskogee's central location and transportation assets. Some of the businesses growing in the region are food and beverage manufacturing, construction materials manufacturing, metal fabrication and automotive parts manufacturing - all industries that Muskogee is actively working to attract.
Their low cost of living, recent surge of retail development, revitalization of their historic downtown, abundance of outdoor recreational opportunities, and proximity to Tulsa and Fort Smith, are just a few of the reasons business professionals are choosing to live and work here.
About Muskogee
A population 40,000 strong, Muskogee is located in northeastern Oklahoma, ideally situated between Tulsa (45 minutes northwest) and Fort Smith, Arkansas (60 minutes southeast). Muskogee is a cultural, medical, educational, recreational, and industrial hub for the region. Muskogee's diverse economy is driven by a mix of manufacturing, retail, healthcare, service, professional and executive jobs.
Notes of Interest
Home of the Oklahoma Music Hall of Fame.
Home of the Oklahoma Movie Hall of Fame.
Home to Oklahoma's only submarine and castle.
Home to the Five Civilized Tribes Museum.
How the Muskogee City-County Port Authority Promotes Economic Development
Through its Industrial Development Office, the Muskogee City-County Port Authority is charged with creating an environment for economic growth through advocating for pro-business public policies and delivering innovative programs and services to increase industrial-related investment and job opportunities in the Muskogee area. The team is responsible for allocating and leveraging local economic development resources to sustain and enhance the economic growth, vitality, and global competitiveness of the Muskogee area as a superior industrial business location for both new and existing companies. Services include site identification, facilitation of local/state incentives and financing options, and customized research.
Incentives Are Available
Elements of Muskogee's local incentive package could include, but are not limited to:
Activation of Foreign Trade Zone
Build to Suit Options
Land Conveyance
Property Tax Abatement
Financing Assistance
Cash Contributions
Their Strategic Investment Program (SIP) incentive is also an attractive option for businesses looking to relocate. SIP is a performance-based, cash incentive available to new and/or expanding companies who create a minimum of 15 new jobs over 36 months, which pay at least 110% of the average county wage and/or invest a minimum of $250,000 in new depreciable assets over 36 months.
Learn More About Muskogee, Oklahoma
The Muskogee City-County Port Authority invites businesses and site selectors to contact them to learn more about incentives and opportunities. "We've got land. We've got logistics. We've got workforce. We've got incentives. We need YOU!" Visit www.muskogeedevelopment.org for more information.